Ready For Your Next Project?
Kissimmee, FL Kitchen Cabinet Installation Service
Professional & Detailed Kitchen Cabinet Installation
While new cabinets can be a great way to update your kitchen's look, they also make a good investment. It is important that you have them installed correctly by professionals.
Before you think of replacing cabinets, consider the layout and design of your kitchen. You might consider updating your galley-style kitchen if you live in an older house.
An average cabinet installation involves the removal and the installation of new cabinets, as well as all trimming and hardware. Typically, no modifications need to be made to existing drywall but our Kissimmee drywall repair and installation service is available if your project is more on the custom side.
Custom & Pre-Made Cabinetry Installer
There are homeowners who prefer a custom kitchen cabinet installation instead of purchasing pre-made cabinets from a supplier.
You have ordered cabinets custom made for your kitchen but it is possible that you may not have the right tools to put in the cabinets on your own. As professional Kissimmee handymen, cabinet installation can be completed at an affordable price.
Our goal is to make your dreams come true as your go-to handymen for not only your kitchen cabinetry and remodeling projects but minor, pesky ones as well. We will work efficiently to complete your project quickly and make it beautiful and practical all while ensuring not to make your home uncomfortable during the installation process.
The cost of installation in central Florida can vary depending on what type of cabinets you select, how big your kitchen is, and any other unique factors. For a standard kitchen, the average cost of cabinet installation in Orlando is between $5,000 and $7,000.
Custom cabinets involve more detailed work compared to standard installations but if you have had custom cabinets made for your kitchen we can take the installation off of your plate and get your kitchen looking exactly as you have in mind. If you are looking to have cabinets created, reach out to us and we will work with you on your project.
Cabinet Refinishing & Painting
Perhaps you prefer not to install new cabinetry for your kitchen but instead would like to give your existing cabinets a makeover. Cabinets can be refinished and repainted as well as have decorative trim changed if needed. Simply repainting kitchen cabinets can have a significant impact on your kitchen as a whole and give your home a refresh. Give us a ring if your kitchen needs a new look!
Using a Skilled Kitchen Cabinetry Installation Service Has Several Advantages
Choosing a competent kitchen cabinets installation provider has various benefits. Most importantly, it guarantees that the job is completed correctly the first time, saving time and money. Professional installers are equipped with the knowledge, know-how, and tools required to complete any installation, even those with intricate designs and unique combinations. Also, they have access to high-quality materials and are able to offer helpful suggestions on how to choose the best kitchen accessories.
Having peace of mind is another advantage of using a professional installation service. You can be confident that your kitchen will be fitted securely and in accordance with regional standards and regulations if you hire a professional installation. A warranty or guarantee on the work is also available to you, adding an additional layer of security and protection.
How to Pick the Best Cabinet Installation Service in Kissimmee, FL for Your Kitchen
For a project to be successful, picking the best kitchen cabinets installation provider is crucial. Start by investigating and evaluating various service providers in your area. Choose service providers with a good track record of producing high-quality work and a solid reputation. To learn more about previous customers' experiences, read online reviews and testimonials.
Secondly, think about the installers' training and credentials. Check to see if they have the necessary permits, insurance, and certifications. To determine their degree of experience and talent, ask for references and samples of their prior work.
Finally, think about the service's overall cost and value. Be sure the estimate covers all parts of the installation, including supplies, labour, and any other fees or charges, by comparing prices from multiple service providers. Select a service provider who offers a reasonable, open price structure and maintains good communication at all times.
Local Service Areas Served Near Kissimmee, FL
Kissimmee, FL is a city of approximately 72,000 residents and is the largest city in Osceola County. Kissimmee is a family-oriented destination known for its scenic outdoors, great weather, and its closeness to tourist areas and attractions. Walt Disney World Resort, Universal Orlando Resort and SeaWorld Orlando among other tourist attractions are just minutes away from Kissimmee.
Travelers land in nearby airports, Orlando International Airport (MCO) and Orlando Sanford International Airport (SFB). Homeowners here enjoy the prime location of their properties and many will call Kissimmee and nearby Orlando areas their home as demand for homes in Central Florida continue to boom.  
28°18′14″N 81°24′46″W (28.303988, -81.412867).
IATA: ISM, ICAO: KISM, FAA LID: ISM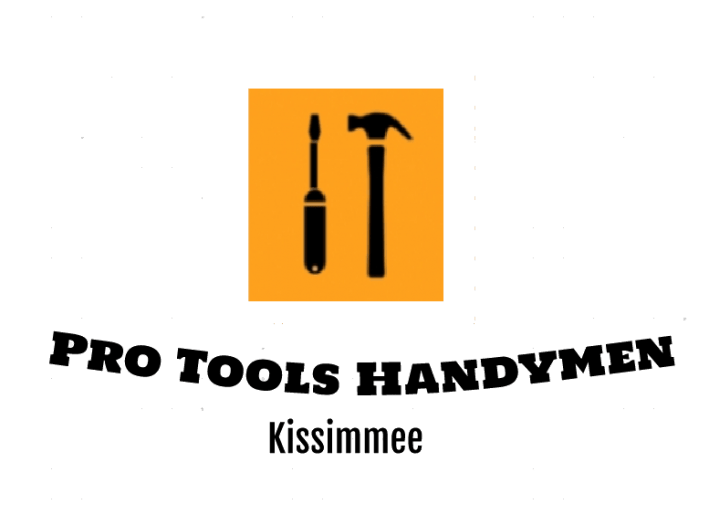 Office
Phone: (321) 218-2250
Pro Tools Handymen – Kissimmee
1415 W Oak St,
Kissimmee, FL 34741
Get A Quote
Get Quote For Services